All gymnastic classes will begin at the scheduled time so gymnasts gain the most from the coaching time provided. Warm ups are conducted for the first five minutes of each class. This is vitally important to teaching the basic body positions and for stretching the muscles to prevent injuries. A quick, fast game gets the body moving in a fun and social atmosphere.
The Program provider reserves the right to cancel any class that has insufficient children enrolled or no suitably qualified coach is available for tuition of the class.
Gymnasts are dismissed from the gymnastic floor at the end of their class awaiting collection from their parent. Parents are requested to collect their child from inside the centre rather than allowing them to wait outside unsupervised, as the car park is a very busy place.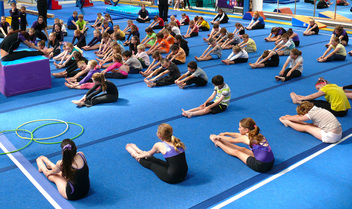 The occasional absence is understandable, but also realise the important of continuity in maintaining the gymnasts' skill level, strength and flexibility.
Contacting the coordinator before scheduled class times is advisable, if a gymnast will be missing classes. This enables the class to continue on time without having to wait for absent gymnasts to arrive.
Sessions include a warm-up, flexibility and strength programs. Missing or rushing any of these increases the risk of injury to the gymnast, therefore any gymnasts arriving late may be unable to participate in the class and will be requested to remain off the floor until the end of the class.
If a child needs to be collected early, please notify the coaching staff prior to the beginning of their class so appropriate workout alterations may be made for the gymnast to leave early.